it25: "Relegations-Poll" für Liga-Spiel erforderlich
Stimmengleichstand erzwingt einen "Zweikampf"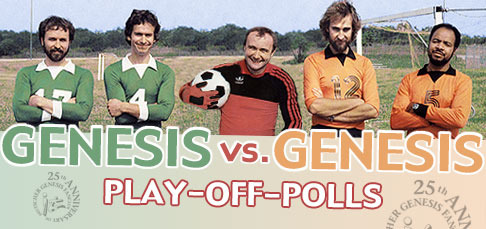 Eine Blitzumfrage (online bit Mittwoch Nachmittag) muss es entscheiden: Weil in unserem Kick-off Poll zum Song-Liga Spiel zwei Songs gleich viele Stimmen hatten und genau an der Grenze lagen, die über die Zugehörigkeit zur ersten oder zweiten Liga entscheidet, muss ein separater Poll die Entscheidung bezüglich dieser beiden Tracks bringen.
Squonk und The Fountain of Samlacis sind die beiden Songs - direkt zur Umfrage geht es unter diesem Link. Der Sieger der Umfrage startet in Liga 1, der unterlegene Song geht automatisch in die zweite Liga.

Folgende Songs haben sich bereits für die erste Liga qualifiziert:
CAN-UTILITY AND THE COASTLINERS
DANCING WITH THE MOONLIT KNIGHT
DUKE'S TRAVELS / DUKE'S END
HOME BY THE SEA / SECOND HOME BY THE SEA

Folgende Songs haben sich für die zweite Liga qualifiziert:
FLY ON A WINDSHIELD / BROADWAY MELODY OF 1974

I KNOW WHAT I LIKE (IN YOUR WARDROBE)
THE LAMB LIES DOWN ON BROADWAY
THE RETURN OF THE GIANT HOGWEED

Weitere Infos gibt es im Unterforum zum Song-Liga-Spiel unter diesem Link.
---
veröffentlicht am 07.11.16 09:28 von
Christian
@
it-Website
---
it25: "Relegations-Poll" für Liga-Spiel erforderlich Kommentare:
Kein Kommentar möglich

Wenn Sie einen Kommentar hinterlassen möchten, müssen Sie sich einloggen!
---