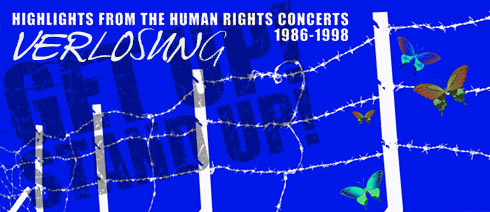 Verlosung: Get Up Stand Up! (DVD)
Wir verlosen 5 Exemplare der DVD (feat. Peter Gabriel)
Peter Gabriel ist zwischen 1986 und 1998 regelmäßig bei Konzerten der Menschenrechtsorganisation Amnesty International aufgetreten. Einige dieser Auftritte wurden auch auf DVD veröffentlicht, so zum Beispiel das Pariser Konzert The Struggle Continues von 1998 (ein Bericht seines Auftritts damals könnt ihr unter diesem Link lesen).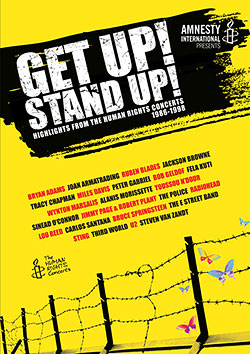 Nun hat Eagle Vision die Highlights von gleich vier Konzerten auf DVD und 2CD veröffentlicht. Die DVD und die 2CD enthalten Teile der Konzerte A Conspiracy Of Hope (1986), Human Rights Now! (1988), An Embrace Of Hope (1990) und The Struggle Continues (1998). Peter ist auf der DVD und der 2CD gleich mehrfach vertreten, dazu natürlich auch eine ganze Reihe anderer Künstler wie U2, Bryan Adams, Bruce Springsteen, Radiohead oder Sting. DVD und 2CD sind bereits erhältlich. Die 30 Songs (Tracklist siehe unten) sind auf allen Veröffentlichungen enthalten, als MP3-Album sind diese für knapp 10 EUR sehr günstig erhältlich.

DVD bestellen:
amazon
|
JPC
2CD bestellen:
amazon
|
JPC
MP3-Album bestellen:
amazonMP3
|
iTunes
---
Wir verlosen 5 Exemplare der DVD. Um eine der DVDs zu gewinnen, schickt einfach eine Email mit Euren Daten (Name / Postadresse) an getupstandup@genesis-fanclub.de. Einsendeschluss ist der 31.07.2013. Der Rechtsweg ist wie immer ausgeschlossen! Die Gewinner werden benachrichtigt. Viel Erfolg!

---
Die komplette Tracklist:
From A Conspiracy Of Hope (1986)
01
Bob Geldof & Steven Van Zandt
- Redemption Song
02
Third World
- Now That We've Found Love
03
Joan Armatrading
- Love And Affection
04
Ruben Blades (with Carlos Santana & Fela Kuti)
- Muevete
05
Miles Davis Speak
/ That's What Happened
06
Lou Reed
- Walk On The Wild Side
07
Peter Gabriel
- Shock The Monkey
08
Bryan Adams
- Run To You
09
Bryan Adams
- Summer Of '69
10
U2
- MLK / Pride (In The Name Of Love)
11
U2
- Sunday Bloody Sunday
12
The Police
- Message In A Bottle
13
The Police
- Every Breath You Take
From Human Rights Now! (1988)
14
Tracy Chapman
- Talkin' 'bout A Revolution
15
Peter Gabriel
- Sledgehammer
16
Sting
- Don't Stand So Close To Me
17
Bruce Springsteen & The E Street Band
- Born In The USA
18
Bruce Springsteen & The E Street Band
- I'm On Fire
From An Embrace Of Hope (1990)
19
Inti-Illimani
- Bailando, Bailando
20
Wynton Marsalis
- Jungle Blues
21
Jackson Browne
- Lives In The Balance
22
Sinead O'Connor
- Nothing Compares 2 U

From The Struggle Continues (1998)
23
Bruce Springsteen
- No Surrender
24
Tracy Chapman
- Fast Car
25
Alanis Morissette
- Hand In My Pocket
26
Peter Gabriel & Youssou N'Dour
- Shaking The Tree
27
Jimmy Page & Robert Plant
- Rock And Roll
28
Radiohead
- Karma Police
29
Radiohead
- Bones
30
Bruce Springsteen, Peter Gabriel, Tracy Chapman & Youssou N'Dour
- Get Up, Stand Up