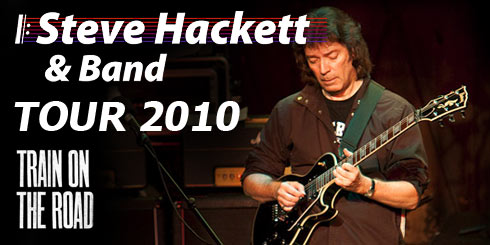 Steve Hackett & Band live - Tourdaten 2010
Nach den umjubelten Konzerten des letzten Jahres, die neben einer exklusiven Akustik-Performance beim Steve Hackett Event in Remscheid auch nach langer Zeit wieder Live-Konzerte mit Band im Herbst beinhalteten, wird Steve Hackett auch 2010 wieder Konzerte spielen. Im Mittelpunkt werden wieder Konzerte mit seiner Band stehen. Dabei wird er weiterhin sein aktuelles Album Out Of The Tunnel's Mouth vorstellen und älteres Material seiner Solokarriere und Genesis-Zeit präsentieren.
Zum ersten Mal seit langer Zeit führt ihn eine Tournee auch wieder nach Nordamerika. In Deutschland sind vorläufig keine Konzerte geplant. In Alsace (Frankreich) findet am Pfingstwochenende aber ein zweitägiges Event mit einer Acoustic Trio und einer Band-Performance von Steve Hackett statt.

letztes Update: 14.05.2010
* Acoustic Trio
+ Full Band
06.02.10
Helsinki - The Savoy Theatre

Finnland


01.04.10
A Coruna - Coliseum

Spanien


20.04.10
Kecskemét - Müvelödeski Központ (with Djabe)
Ungarn


21.04.10
Debrecen - Kölksey (with Djabe)
Ungarn


17.05.10
Budapest (with Djabe)
Ungarn


21.05.10
Compiegne - Ziquodrome
Frankreich
22.05.10
Alsace - La Gare
Frankreich
23.05.10
Alsace - La Gare
Frankreich
24.05.10
Breda - Mezz

Niederlande


25.05.10
Zoetermeer - Boerderij

Niederlande
26.05.10
Verviers - Spirit of 66
Belgien
18.06.10
Bethlehem PA - Zoellner Arts Center NEARFest +
USA


20.06.10
Westhampton Beach - Performing Arts Center
USA


22.06.10
Arlington - The Regent Theatre
USA


23.06.10
New York City - River to River Festival
USA


24.06.10
Falls Church - The State Theatre
USA


26.06.10
Greensburg - The Palace Theatre
USA


30.06.10
Milwaukee - Performing Arts Centre
USA
02.07.10
Rochester - Water Street Music Hall
USA
03.07.10
Albany - Hart Theatre
USA


07.07.10
Toronto - Queen Elizabeth Theatre
Kanada
08.07.10
Ottawa - Cisco Bluesfest
Kanada


09.07.10
Montreal - Place des Arts Theatre +
Kanada


10.07.10
Sherbrooke - Theatre Granada
Kanada


12.07.10
Quebec - Summer Festival
Kanada


25.07.10
London - Victoria Park +
UK


20.08.10
Tokyo - Kawasaki Club Kitta
Japan


16.11.10
Southampton -The Brook

UK


18.11.10
Glasgow - The Ferry
UK


19.11.10
Manchester - Academy
UK
20.11.10
Pontardawe - Arts Centre
UK


21.11.10
Leamington Spa - The Assembley
UK
23.11.10
Brighton - Komedia
UK
25.11.10
Bath - Komedia
UK
26.11.10
Holmfirth - Pictredrome
UK
27.11.10
Birkenhead - Pacific Road Arts Centre
UK


28.11.10
Gateshead - The Sage
UK


29.11.10
Wolverhampton - Robin 2
UK


30.11.10
London - Shepherds Bush Empire
UK
02.12.10
Cambridge - The Junction
UK


03.12.10
Milton Keynes - The Stables
UK




Konzertberichte zu früheren Steve Hackett Tourneen
Informationen zum neuen Album Out Of The Tunnel's Mouth