Steve Hackett & Djabe: Life Is A Journey (6.10.17)
Erstes gemeinsames Studioalbum der Ungarn mit Steve
Steve Hackett verbindet eine ganze Menge mit der ungarischen Band Djabe. Schon öfter kam es zu gemeinsamen Konzerten und Gastauftritten. Zuletzt wurden die gemeinsamen Auftritte auch im Rahmen der Live-Albums Sommer Storms And Rocking Riversdokumentiert.
Im Jahr 2016 haben Djabe und Steve Hackett auf Sardinien in einem 1000 Jahre alten Tempel (Nostra Signora di Tergu) ein Aufnahmestudio aufgebaut und drei Tage lang Musik aufgenommen. Aus diesen Aufnahmen entstand ein 70minütiges Studioalbum, das nach Aussage von Steve die Genre-Grenzen zwischen Progressive Rock, Weltmusik und Jazz "wegwäscht". Das Album heißt Life Is A Journey: The Sardinia Tapes. Die Bonus-CD enthält einige Eindrücke der Arbeiten auf Sardinien, aber auch das komplette Album in 5.1 sowie ein paar Live-Tracks von Djabe, Steve Hackett und Gulli Briem, aufgenommen in Budapest im Juni 2017. Das CD/DVD-Set wird am 6. Oktober erscheinen.

Das Album ist vorbestellbar: amazon | JPC
Tracklist CD1:
Life Is A Journey
Golden Sand
Castelsardo At Night
What's The News Antonio?
Around My Mind
Beams Over The Nulvi Mountains
Building A Nuraghe
Buzzy Island
I Will Always Remember
Wake Up
After Limoncello
Inhalt der DVD:
Komplettes Album in 5.1 Surround Sound
Sardo Moments - Footage of the Recording Session
Djabe with Steve Hackett and Gulli Briem: Live in Budapest 2017
Walking Away From Rainbows
Fly On A Windshield
Please Don't Touch
Budapest Jam
Cloud's Dance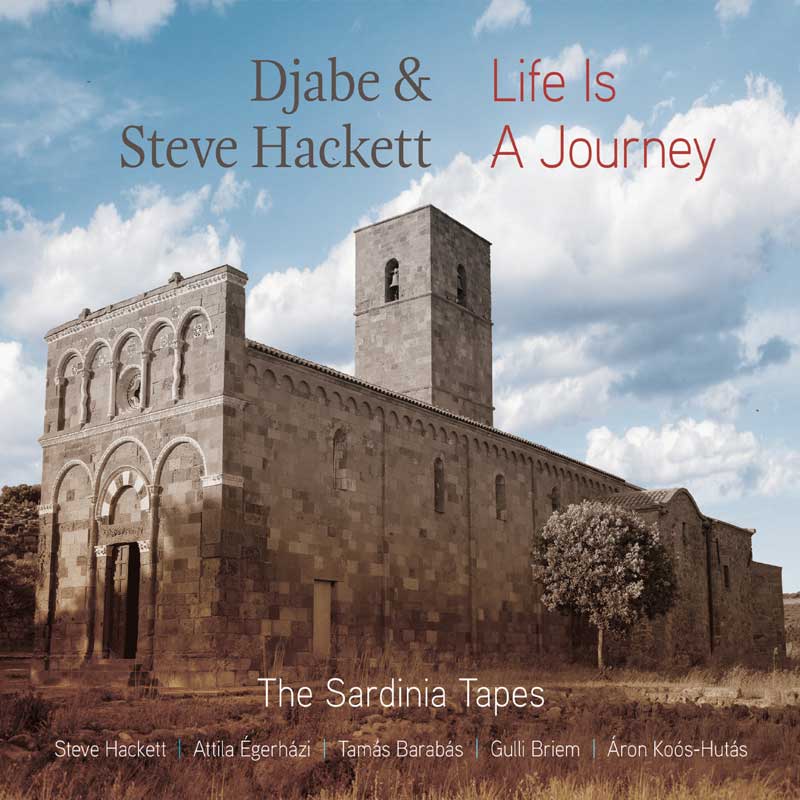 ---
veröffentlicht am 29.09.17 11:40 von
Christian
@
Steve Hackett
---
Steve Hackett & Djabe: Life Is A Journey (6.10.17) Kommentare:
Kein Kommentar möglich

Wenn Sie einen Kommentar hinterlassen möchten, müssen Sie sich einloggen!
---