Neues Ray Wilson Live-Album: "Time And Distance"
Doppel-CD mit Aufnahmen von drei Shows
Ray Wilsons umtriebige Tour-Aktivitäten sind immer mal wieder Grund genug für ein offizielles Live-Dokument. Nach 20 Years And More, das auch eine DVD enthielt, gibt es nun ein neues Live-Doppelalbum. Time And Distance wurde bei drei Konzerten in Zoetermeer, Heerlen und Halburg in den Jahren 2016 und 2017 aufgenommen. Mit The Dividing Line ist auch eines von Ray nie zuvor gespieltes Stück auf dem Album und damit ein gelungenes Appetithäppchen für die kommenden 20 Jahre Calling All Stations Konzerte.
Tracklist: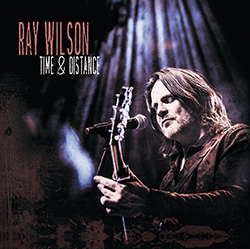 CD 1
01.
Calling All Stations
02.
The Dividing Line
03.
Home By The Sea
04.
Carpet Crawlers
05.
Entangled
06.
Ripples
07.
Follow You Follow Me
08.
Not About Us
09.
In Your Eyes
10.
Another Day In Paradise
11.
Another Cup Of Coffee
12.
Mama
13.
Congo
CD 2
01.
Alone
02.
Propaganda Man
03.
Calvin and Hobbes
04.
Take it Slow
05.
Ought To Be Resting
06.
Old Book On The Shelf
07.
Song For A Friend
08.
Not Long Till Springtime
09.
Another Day
10.
Makes Me Think Of Home
11.
Bless Me
12.
First Day Of Change
Die Doppel-CD kommt in einem schönen Digipak und ist zunächst nur über Rays Website vorbestellbar. Im Herbst soll es dann auch in den regulären Handel kommen.
UPDATE 21.08.2017:
Time & Distance (2CD Digipak) bestellen: amazon | JPC
---
veröffentlicht am 02.06.17 12:01 von
Christian
@
Ray Wilson
---
Neues Ray Wilson Live-Album: "Time And Distance" Kommentare:
Kein Kommentar möglich

Wenn Sie einen Kommentar hinterlassen möchten, müssen Sie sich einloggen!
---