Mike + The Mechanics: Vorband für Phil Collins
Support-Act beim Hyde Park-Konzert am 30. Juni 2017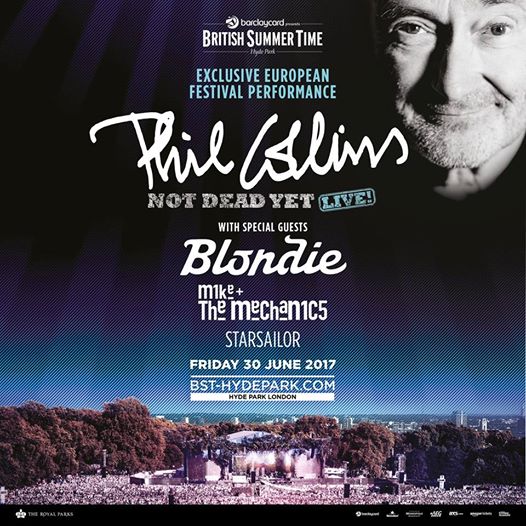 Das Jahr 2017 ist gerade einmal einen Monat alt und es gibt die erste echte Überraschung des Jahres: Mike + The Mechanics werden als eine von drei Vorgruppen beim Open Air-Festival "British Summer Time" am Freitag, 30. Juni 2017 im Londoner Hyde Park auftreten. Es wird nicht das erste Mal sein, dass Mike Rutherford und seine "Mechaniker" im Vorprogramm seines Genesis-Bandkollegen Phil Collins auftreten. Bereits auf dem ersten Teil der First Final Farewell Tour hatte es diese Konstellation im Sommer 2004 bei insgesamt acht Europa-Konzerten gegeben, unter anderem in Zürich, München, Berlin und Köln. Wenn man die damaligen Shows als Maßstab nimmt, dürfte es unwahrscheinlich sein, dass Phil Collins im kommenden Juni gemeinsam mit Mike auf der Bühne steht.
Für das Vorprogramm im Hyde Park wurde zudem die US-amerikanische Band Blondie um Frontfrau Debbie Harry verpflichtet, die bereits vor dem Phil Collins-Konzert am 25. Juni 2017 im Dubliner Aviva Stadium auftreten wird. Das Line-Up des ersten Festivaltages im Hyde Park komplettiert die britische Band Starsailor.
Tickets für das Festival gibt es noch in allen Kategorien für Preise von 95 bis 435 GBP (Link zu Ticketmaster).
Links
Mike + The Mechanics: Tourdatenseite
Phil Collins: Tourdatenseite

      	
            	
                  	
                        	
                              	
                                    	
                                          	
                                                	
                                                      	
                                                            	
                                                                  	
                                                                  	

      	
            	
                  	
                        	
                              	
                                    	
                                          	
                                                	
                                                      	
                                                            	
                                                                  	
                                                                  	
---
veröffentlicht am 31.01.17 08:03 von
UK76
@
Mike Rutherford
---
Mike + The Mechanics: Vorband für Phil Collins Kommentare:
Kein Kommentar möglich

Wenn Sie einen Kommentar hinterlassen möchten, müssen Sie sich einloggen!
---