Anthony Phillips: "Private Parts & Pieces V-VIII" Boxset
Die Serie der Wiederveröffentlichungen geht weiter
Vor einigen Wochen erschien eine Neuauflage von Anthony Phillips Soloalbum 1984 als 2CD/DVD im Digipak mit neuer 5.1-Abmischung und Bonustracks (wir berichteten). Nun veröffentlicht CherryRed Records ein weiteres Boxset seiner Private Parts & Pieces Reihe. Die ersten vier waren bereits letztes Jahr als Boxset erschienen (Infos siehe hier). In dem neuen Boxset Private Parts & Pieces V-VIII sind die Alben V: Twelve, VI: Ivory Moon, VII: Slow Waves, Soft Stars und VIII: New England enthalten, dazu kommt wieder eine CD mit bisher nicht veröffentlichtem Material. Die Aufmachung ist identisch wie beim ersten Boxset - die Discs sind als Cardsleeves in einem so genannten Clamshell Boxset untergebracht (eine Art aufklappbare Schachtel).
Tracklist: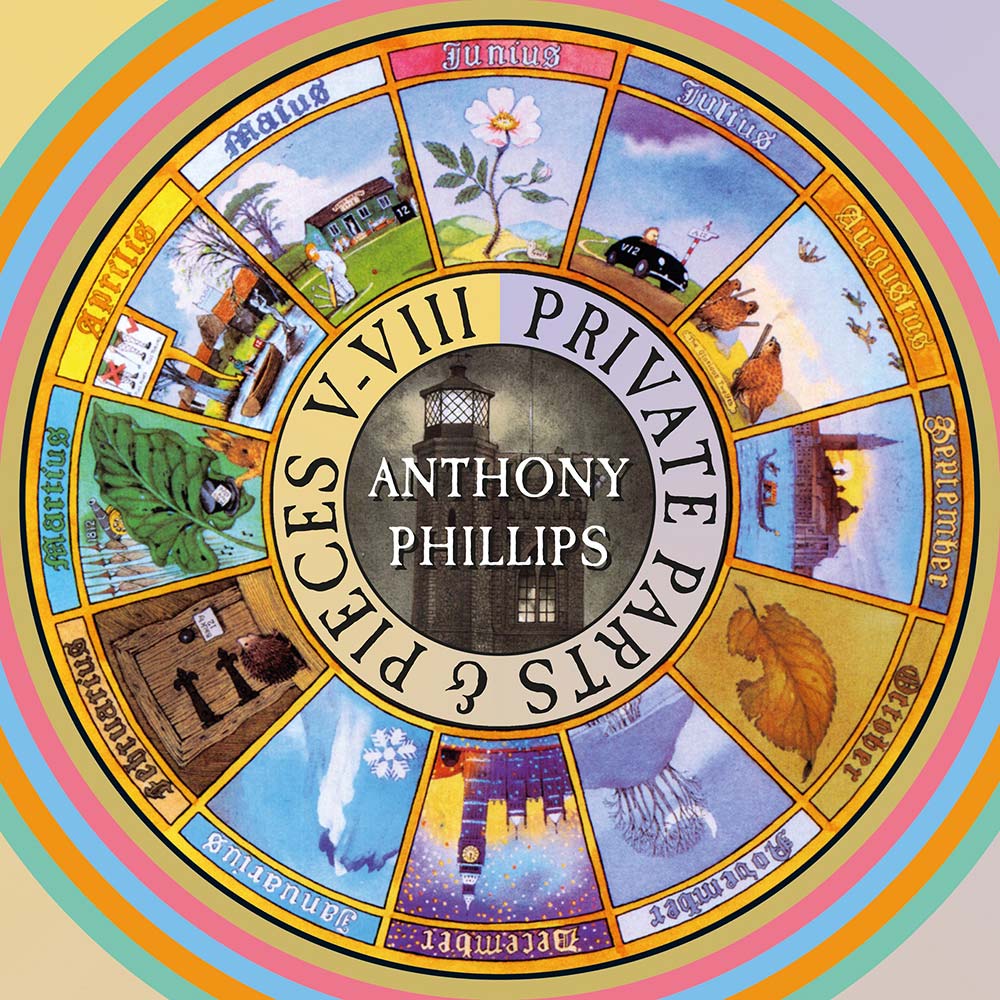 Private Parts & Pieces V: Twelve
January
February
March
April
May
June
July
August
September
October
November
December

Private Parts & Pieces VI: Ivory Moon
Suite: Sea-Dogs Motoring
(I) Sunrise Over Sienna
(II) Basking Shark
(III) Sea Dog's Air
(IV) Safe Havens
Tara's Theme (from Masquerade)
Winter's Shaw
The Old House
Moonfall (from Masquerade)
Rapids
Let Us Now Make Love (bonus track)

Private Parts & Pieces VII: Slow Waves, Soft Stars
Ice Flight Suite
(I) Flight Of The Snow Petrel: Glaciers Bay
(II) Flight Of The Whale Birds: Blizzard Mountain
(III) Flight Of The Albatross: Ice Island
(IV) White Heaven
(V) Cathedral Of Ice
Beachrunner
End Of The Affair
The Golden Pathway
Behind The Waterfall
Carnival
Through The Black Hole
Pluto Garden
Sospirando
Elevenses
Goodbye Serenade
Bubble & Squeak
Vanishing Streets
Slow Waves, Soft Stars

Private Parts & Pieces VIII: New England
Aubade
Infra Dig
Sanctuary
La Dolorosa
New England Suite (I)
New England Suite (II)
New England Suite (III)
Last Goodbyes
Sunrise & Sea Monsters
Iona
Cathedral Woods
If I Could Tell You
Jaunty Roads
Spirals
Pieces Of Eight (I) Pressgang
Pieces Of Eight (II) Sargasso
Pieces Of Eight (III) Sea-Shanty
In The Maze
Unheared Cry
Now They've All Gone


Private Parts & Extra Pieces II
Cathedral Woods Link
Jongleur
Sanctuary (Piano Mix)
Emerald Forest
Unheared Cry Link
Skylarks Over The Water
Sir Isaac (from Masquerade)
Across The Forbidding Horizon
End Of The Affair (II)
Autumn Falls
Beachrunner (II)
Highland Dawn
Sanctuary Link
Unheared Cry (Guitar Demo)
Moonfall (Demo)
Pluto Garden (Alternate Mix)
Cathedral Of Ice (Alternate Mix)
A Place To Rest
The Riddle Of The Sands

Das Boxset erscheint am 23. September und kann bei amazon, JPC, amazon-UK und direkt bei CherryRed vorbestellt werden.
Infos zu weiteren Wiederveröffentlichungen:
The Geese And The Ghost (2CD/DVD-Audio)
Wise After The Event (3CD/DVD-Audio)
Private Parts & Pieces I-IV (5CD-Box)
Sides (3CD/DVD-Audio)
1984 (2CD/DVD-Audio Digipak)

---
veröffentlicht am 01.08.16 18:40 von
Christian
@
Anthony Phillips
---
Anthony Phillips: "Private Parts & Pieces V-VIII" Boxset Kommentare:
Kein Kommentar möglich

Wenn Sie einen Kommentar hinterlassen möchten, müssen Sie sich einloggen!
---