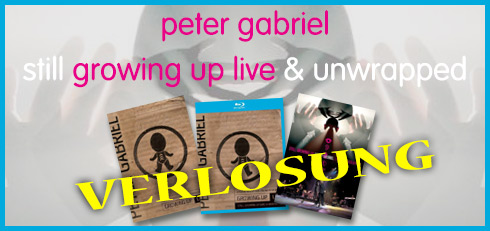 Verlosung: Growing Up Live & Still Growing Up Live
(Peter Gabriel)

Wir verlosen alle Formate (Blu-ray/DVD, DVD, 2DVD)
Seine umjubelte (Still) Growing Up Tour führte Peter Gabriel zwischen 2002 und 2004 mehrfach durch Nordamerika und Europa. Neben seiner aufwändigen Rundbühnenshow gab es auch Tourabschnitte mit Front-Stage Design. Festgehalten hatte er das seinerzeit auf zwei Konzertfilmen: Growing Up Live (2003) und Still Growing Up: Live And Unwrapped (2004).
Nun werden beide Konzertfilme neu aufgelegt. Neben den Standard DVD-Versionen der beiden Konzertfilme gibt es auch ein Bundle in Form eines Blu-ray/DVD-Sets. Hier liegt Growing Up Live erstmals in HD vor, dazu ist die beliebte Tourdokumentation Growing Up On Tour: A Family Portrait ebenfalls enthalten. Die genauen Details des Inhalts entnehmt bitte der entsprechenden Newsmeldung (hier klicken).
Hinweis: Die Veröffentlichung wurde auf den 14.10.2016 verschoben.

Wir verlosen jeweils 2 Formate
Um an der Verlosung teilzunehmen, schickt bitte eine Email unter Angabe Eurer vollständigen Postadresse an eine der folgenden Emailadressen (Mehrfachteilnahmen sind grundsätzlich möglich):

Für das Blu-day/DVD-Set mit beiden Konzertfilmen:
sgul-bluraydvd@genesis-fanclub.de

Für den Growing Up Live Konzertfilm auf DVD

Für den Still Growing Up: Live And Unwrapped Konzertfilm auf 2DVD

Einsendeschluss ist der 12. Oktober 2016. Emails ohne vollständige Angaben werden nicht berücksichtigt. Der Rechtsweg ist ausgeschlossen.

Datenschutzhinweis: Zum Zwecke der Ermittlung der Gewinner werden Eure Daten lokal für die Dauer des Gewinnspiels bis zur Auslosung gespeichert. Danach werden alle Teilnehmer-Emails gelöscht.