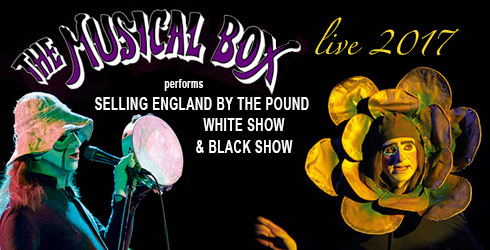 The Musical Box live 2017
Selling England By The Pound (Black / White Shows) + Lamb Encore

Die kanadische Band The Musical Box wird die legendäre Selling England By The Pound Show auch 2017 in Europa aufführen. Neben vielen Konzerten Großbritannien stehen auch vier Shows in Deutschland auf den Plan.
NEU: Bei allen Shows wird die Band einen Special Encore Set spielen - dieser wird ca 20 Minuten dauern und aus Lamb-Material bestehen.

Tickets gibt es überwiegend bei WiV.
SE: "normale" Selling England Show
BS: "Black" Selling
letztes Update: 26.10.2017

Datum



Stadt / Venue

Land
Tickets











10.10.17

BS

Manchester

- The Lowry

UK

11.10.17

BS


Gateshead

- Sage One

UK
13.10.17

BS


Birmingham

- Symphony Hall

UK
15.10.17

BS

Basingstoke

- The Anvil

UK
16.10.17

BS

Southend

- Cliffs Pavilion

UK
18.10.17

BS

Cardiff

- Tramshed

UK
19.10.17
BS

Glasgow

- O2 ABC

UK
21.10.17
BS

Edinburgh

- Usher Hall

UK
22.10.17
BS

London

- Eventim Apollo

UK
23.10.17

BS

Liverpool

- Philharmnic Hall

UK
26.10.17

BS

Leeds

- Town Hall

UK
29.10.17

BS


Leicester

- De Montfort Hall

UK
02.11.17

BS


Lissabon

- Aula Magna

Portugal


06.11.17

BS


Barcelona

- BARTS

Spanien


08.11.17

BS


Napoli

- Teatro Augusteo

Italien
09.11.17

BS


Torino

- Teatro Colosseo

Italien
10.11.17

BS


Padova

- Gran Teatro Geox

Italien
12.11.17

BS


Roma

- Auditorium Parco della Musica

Italien
16.11.17

BS


Neuruppin

- Kulturkirche

Deutschland
17.11.17

SE


Walsrode

- Stadthalle

Deutschland
18.11.17

BS

Walsrode

- Stadthalle
Deutschland
23.11.17

BS

Dillingen

- Lokschuppen
Deutschland
24.11.17

SE

Castrop-Rauxel

- Stadthalle
Deutschland
25.11.17

SE

Offenbach

- Capitol
Deutschland