Steve Hackett - Genesis Revisited Tour 2013
Alle Termine und Infos zur Tour
1996 veröffentlichte Steve Hackett mit Genesis Revisited erstmals ein Werk, das eine Art Rückschau auf seine Genesis-Zeit darstellte. Seine eigenen Interpretationen alter Klassiker waren zuweilen schwere Kost, aber interessant zu hören. Nun hat Steve sich wieder diesem Projekt gewidmet und einen Nachfolger präsentiert. Das Doppelalbum oder 4-LP-Set Genesis Revisited II enthält wieder Songs aus seiner Genesis-Zeit, dazu kommen vier neu eingespielte Solo-Songs, die noch durch Genesis beeinflusst wurden, so Steve.
Mit diesem Konzept geht er auch auf Tour. Geplant sind zunächst einige Konzerte in Nordamerika, deutsche Termine finden im April und Mai statt - Veranstalter ist Peter Rieger. Zum ersten Mal seit langer Zeit wird Steve Hackett auch einen "echten" Sänger an Bord haben. Dazu wird Ray Wilson bei einigen Shows als Gastsänger dabei sein (siehe unten).

Konzerte im Deutschen Raum: Ihr könnt euch mit anderen Fans im Forum zu jedem Konzert austauschen - hier klicken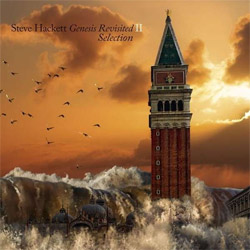 Genesis Revisited II: Selection
Am 10. Mai 2013 erscheint im Rahmen der Tour eine neue Version des aktuellen Albums. Genesis Revisited II: Selection ist so etwas wie eine Highlights-CD des Albums. Neben einer Auswahl der Stücke des Doppelalbums enthält die CD aber auch einen neuen Song - Carpet Crawlers, gesungen von Ray Wilson. Folgende Songs sind auf der CD: Carpet Crawlers, 11th Earl of Mar, The Lamia, Dancing with the Moonlit Knight, Entangled, Shadow of the Hierophant, Can-Utility and the Coastliners, Afterglow, Blood on the Rooftops. Das Album kann bei amazon und bei JPC für jeweils rund 10 EUR bestellt werden.

UPDATE 06.10.2013: Das Londoner Konzert wurde mitgeschnitten und am 25.10.2013 als 3CD/2DVD-Set veröffentlicht. Wir haben das Set begutachtet - unsere Rezension findet ihr unter diesem Link.
Line-Up:
Steve Hackett: Guitars
Nad Sylvan: Vocals
Roger King: Keyboards
Gary O'Toole: Drums, Vocals
Lee Pomeroy: Bass, Backing Vocals
Rob Townsend: various instruments
Ray Wilson: Vocals (nur mit * gekennzeichnete Shows!)
Hinweis:
Alle Termine 2014 findet ihr
unter diesem Link
!
letztes Update: 20.07.2013
| | | | |
| --- | --- | --- | --- |
| 2013 | | | |
| 25.03.13 | Ft. Lauderdale / Cruise (until 30/03) Setlist | USA | |
| 01.04.13 | La Mirada (CA) - La Mirada Theatre (CalProg) Setlist | USA | |
| 03.04.13 | Baja California - Teatro Del Estado (Baja Prog) | Mexiko | |
| 14.04.13 | Paris - Le Trianon Setlist | Frankreich | |
| 15.04.13 | Brüssel - Ancienne Belgique | Belgien | |
| 17.04.13 | Amsterdam - Paradiso | Niederlande | |
| 20.04.13 | Zürich - Kaufleuten | Schweiz | |
| 21.04.13 | Wien - WUK | Österreich | |
| 23.04.13 | Mailand - Teatro Della Luna * | Italien | |
| 24.04.13 | Vicenca - Teatro Comunale | Italien | |
| 26.04.13 | Rom - Teatro Sistina | Italien | |
| 27.04.13 | Bologna - Teatro Manzoni | Italien | |
| 29.04.13 | Leipzig - Haus Auensee | Deutschland | Bericht |
| 30.04.13 | Stuttgart - Theaterhaus | Deutschland | |
| 02.05.13 | München - Herkulessaal * | Deutschland | Bericht |
| 03.05.13 | Mainz - Phönixhalle | Deutschland | |
| 05.05.13 | Oberhausen - Luise-Albertz-Halle | Deutschland | |
| 06.05.13 | Hamburg - Kampnagel | Deutschland | Bericht |
| 09.05.13 | Aylesbury - Friars | UK | |
| 10.05.13 | London - Hammersmith Apollo | UK | |
| 11.05.13 | Cardiff - St. David's Hall | UK | |
| 12.05.13 | Liverpool - Philharmonic | UK | |
| 14.05.13 | Glasgow - Royal Concert Hall * | UK | |
| 15.05.13 | Gateshead - The Sage | UK | |
| 16.05.13 | Birmingham - Symphony Hall | UK | |
| 18.05.13 | Dublin - Vicar Street | Irland | |
| 21.05.13 | Bergen - Ricks Theater | Norwegen | |
| 22.05.13 | Oslo - Sentrum Scene | Norwegen | |
| 23.05.13 | Kopenhagen - Amager Bio | Dänemark | |
| 24.05.13 | Stockholm - Nalen | Schweden | |
| 07.06.13 | Kawasaki - Club Citta | Japan | |
| 08.06.13 | Kawasaki - Club Citta | Japan | |
| 09.06.13 | Kawasaki - Club Citta | Japan | |
| 19.07.13 | Bad Hersfeld - Burg Herzberg Festival | Deutschland | |
| 21.07.13 | Verona - Teatro Romano | Italien | |
| 22.07.13 | Torino - Gruvillage | Italien | |
| 23.07.13 | Gavirrani - Teatro delle Rocce | Italien | |
| 26.07.13 | Quimper - Festival de Cornouaille | Frankreich | |
| 20.09.13 | St. Charles, IL - Arcada Theatre | USA | |
| 21.09.13 | St. Charles, IL - Arcada Theatre | USA | |
| 22.09.13 | Milwaukee, WI - Pabst Theatre | USA | |
| 25.09.13 | New York City, NY - Best Buy Theatre | USA | |
| 26.09.13 | Lakewood, NJ - Strand Theater | USA | |
| 27.09.13 | Westbury, NY - NYCB Theatre | USA | |
| 28.09.13 | Ridgefield, CT - Playhouse | USA | |
| 03.10.13 | Montreal, QC - Place des Arts Theatre | Kanada | |
| 04.10.13 | Quebec, QC - Grand Theatre | Kanada | |
| 05.10.13 | Gatineau, QC - Theatre du Casino du Lac-Leamy | Kanada | |
| 06.10.13 | Belleville, ON - Empire Theatre | Kanada | |
| 08.10.13 | Oakville, ON - Oakville Centre | Kanada | |
| 09.10.13 | Oakville, ON - Oakville Centre | Kanada | |
| 10.10.13 | Homestead, PA - Carnegie Music Hall | USA | |
| 11.10.13 | Glenside, PA - Keswick Theatre | USA | |
| 12.10.13 | Glenside, PA - Keswick Theatre | USA | |
| 13.10.13 | Collingswood, NJ - Scottish Rite Auditorium | USA | |
| 22.10.13 | Birmingham - City Hall | UK | |
| 23.10.13 | Bristol - Colston Hall | UK | |
| 24.10.13 | London - Royal Albert Hall * | UK | |
| 26.10.13 | Manchester - O2 Apollo | UK | |
| 27.10.13 | Newcastle - City Hall | UK | |
| 29.10.13 | Liverpool - Philharmonic | UK | |
| 30.10.13 | Sheffield - City Hall | UK | |
| 01.11.13 | Cambridge - Corn Exchange | UK | |