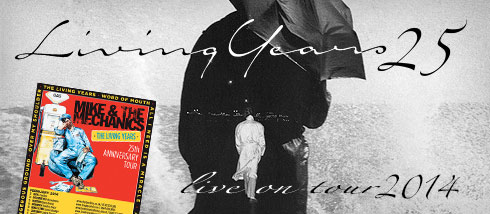 Mike + The Mechanics live 2014: Living Years 25
Infos und Termine zur Jubiläumstour 2014
2013 jährt sich im Herbst die Veröffentlichung des Albums Living Years zum 25. Mal. Geplant ist eine Sonderausgabe des Albums mit einer Neuaufnahme des Titelsongs (Andrew Roachford singt) und einer Bonus-CD, deren Inhalt noch unbekannt ist. Das 2CD-Set soll Anfang 2014 erscheinen.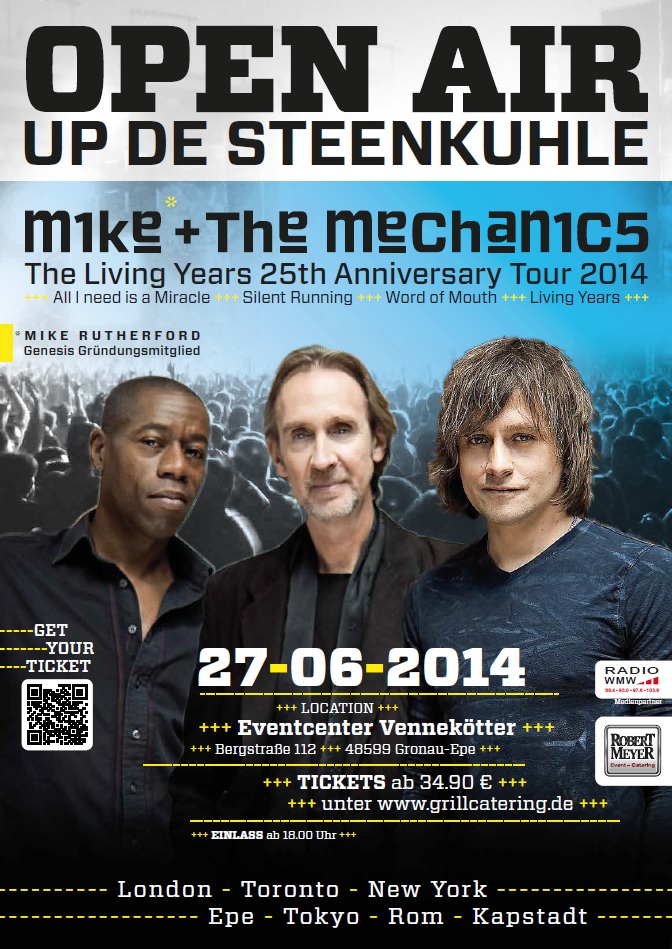 Parallel erscheint außerdem die Compilation The Singles: 1985-2014, auf der mit When My Feet Don't Touch The Ground ein brandneues Stück zu finden ist. Außerdem gibt es eine Bonus-CD mit den B-Seiten der Singles sowie einem bisher völlig unbekannten Duett zwischen Paul Young und Paul Carrack, One By One. Die Doppel-CD kann bei amazon und JPC vorbestellt werden und erscheint am 17.01.2014.

Für 2014 wurden nun Konzerte im Rahmen der Aktivitäten zum 25jährigen Jubiläum des Albums Living Years angekündigt - dies deutete Mike Rutherford bereits im it-Interview in Dresden 2012 an. Im Zentrum steht eine Tour mit Konzerten in England Anfang des Jahres. Weitere Shows in anderen Ländern werden noch hinzukommen, auch in Deutschland wurden bereits die ersten Shows bekannt gegeben.

Line-Up:
Mike Rutherford:
Guitars, Bass
Andrew Roachford:
Vocals, Keyboards
Tim Howar:
Vocals
Anthony Drennan:
Guitars, Bass
Luke Juby:
Keyboards, Bass, Saxophone
Gary Wallis:
Drums
Hinweis:
Informationen zu den Konzerten 2013 findet ihr
unter diesem Link
.
Letztes Update: 17.05.2014
2014

Stadt / Venue

Land
Tickets









12.02.14


Rhyl

- Pavilion

UK


14.02.14


Holmfirth

- Picturedome

UK


16.02.14


Norwich

- Theatre Royal

UK


18.02.14


King's Lynn

- Corn Exchange

UK


19.02.14


Chatham

- Central Theatre

UK


21.02.14


Bolton

- Albert Halls

UK


22.02.14


New Brighton

- Floral Pavilion

UK


23.02.14


Warrington

- Pyramid & Parr Hall

UK


25.02.14


Aberdeen

- Music Hall

UK


27.02.14


Perth

- Horsecross

UK


28.02.14


Gateshead

- The Sage

UK


01.03.14


Birmingham

- Symphony Hall

UK


04.03.14


Fareham

- Ferneham Hall

UK


06.03.14


Basingstoke

- Anvil Arts

UK


07.03.14


Basildon

- Towngate Theatre

UK


09.03.14


St. Albans

- Arena
UK


10.03.14


Tunbridge Wells

- Assembly Hall Theatre
UK


12.03.14


Bradford

- St. George's Concert Hall
UK


13.03.14


Porthcawl

- Grand Pavilion
UK


14.03.14


Stevenage

- Arts & Leisure Centre

UK


16.03.14


London

- Hammersmith Apollo
UK











29.05.14


Neuchatel

- Festival Des Gouttes
Schweiz

24.06.14


Kiel

- Kieler Woche / Radio-Bühne

Deutschland

frei

27.06.14


Gronau

-

Epe

- Eventcenter Vennekötter
Deutschland

28.06.14


Greifswald-Wieck

- Strandbad Eldena

Deutschland

06.07.14


Luxemburg

- Rock Um Knuedler Festival
Luxemburg

19.07.14


Carcassonne

- Theatre de la Cite

Frankreich

26.07.14


Soltau

- Heide-Park Resort

Deutschland

06.08.14


Zofingen

- Magic Night

Schweiz

07.08.14


Neustadt (Aisch)

- BR Radtour / Festplatz

Deutschland

frei

08.08.14


Koblenz

- Sommerfest / Rhein In Flammen

Deutschland

15.08.14


Ritterhude

- Hamme Forum

Deutschland

16.08.14


Henley

- Rewind Festival South
UK

28.08.14


Hanau

- Amphitheater (Schloss)

Deutschland

30.08.14


Cheshire

- Rewind Festival North
UK

06.09.14


Sögel

- Ludmillenhof / Rathaus

Deutschland

---
---